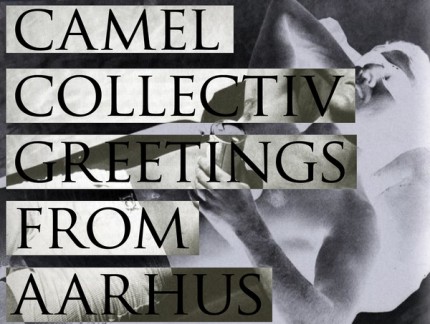 "We have organized a Congress here. Why? What reason can there be for artists, the freest, most independent people in society—people who live like "the lily of the field"—to come together, organize themselves, and undertake theoretical discussions?" —Asger Jorn (1956)
Camel Collective in collaboration with Kran Film would like you to attend the Second World Congress of Free Artists, Aarhus as part of the exhibition Modifications curated by Karin Hindsbo at the Aarhus Kunstbygning.
The event will take place Saturday, November 20, 2010, 11:30–17:30.
This congress resuscitates the First World Congress of Free Artists, in Alba (1956) a meeting organized by Asger Jorn and Pinot Gallizio of the International Movement for an Imaginist Bauhaus which included members of the Lettrist International and the Nuclear Art Movement, among others. Along with two exhibitions, this first congress presented speeches by six participants on the subjects of "free art" and "industrial activity." This meeting lead to the founding conference of the Situationist International at Cosio d'Arroscia in Italy the following year.
The Second World Congress of Free Artists, Aarhus responds to Asger Jorn's call to rethink the professionalization of artists by pointing his historical critique of Max Bill's Bauhaus at the current professionalization of artists. This takes the form of the artist PhD., the institutionalization of the "educational turn" in artistic practice, and the homogenization and privatization of higher education as a result of the Bologna Process in the European Union.
The Second World Congress of Free Artists, Aarhus is a daylong series of performances of speeches written by a selection of international artists and art educators. Each speech will be performed by an actor or actors addressing the audience on the historical, practical, and theoretical problems of institutional and counter-institutional pedagogies as we live them today. In a potential exchange of positions between the roles of sender and receiver in traditional education, the event aims to mark and transcend worn-out and authoritarian models of pedagogy, opting instead for playful and performative modes of knowledge production.
The speeches of the Second World Congress of Free Artists, Aarhus are written by: Eduardo Abaroa; Mirene Arsanios; Michael Ashkin; Sarina Basta, Karin Schneider, and Simone Leigh; Mary Walling Blackburn (Anhoek School); Zachary Cahill; Mónica Castillo; Sande Cohen; Andrea Creutz, Sebastien Berthier, and Shirin Sabahi; Anthony Davies, Nils Norman, and Howard Slater; Eva Diaz; Stephan Dillemuth; Sean Dockray (The Public School); Eva Egermann and Elke Krasny; Miklos Erhardt; Benj Gerdes and Jennifer Hayashida; Sam Gould (Red76); Ashley Hunt; C. Krydz Ikwuemesi; Jakob Jakobsen; Colin Lang; Ditte Lynkaer Pedersen; Carlos Motta; J. Morgan Puett; Johannes Raether; Oliver Ressler and Dario Azzellini; Douglas Ross; Rum46 Collective; Temporary Institute for Witchpower; Javier Toscano; UKK; and The YES! Association.
The Players: Michael Ashkin, Zachary Cahill, Iza Mortag Freund, Wanda Jakob, Ari Godwin Kollontai-Hartz, Zaki Nobel Mehabil, Vivi Nielsen, Rosa Sand Michelsen, Mikkel Trier Rygaard, and Javier Toscano.
About Camel Collective: Since 2005 Camel Collective has produced research-based projects on the subjects of art and pedagogy, archives, and social practice. Camel Collective has been included in exhibitions at Participant Inc., Exit Art, Art in General, and Artist Space in New York City; Sala de Arte Publico Siqueiros in Mexico City; and Overgaden Institute of Contemporary Art in Copenhagen, among others.
Kran Film is hosting with support by the Danish Arts Council Camel Collective in Denmark. Kran Film is engaged in facilitating a film Camel Collective is producing in Denmark. The film is using speeches and historical material from the First World Congress in juxtaposition with new housing development like the one in the Ørestad City.