On 21, August, 2011
at the Casa Vecina, cultural center. Centro Histórico, Mexico city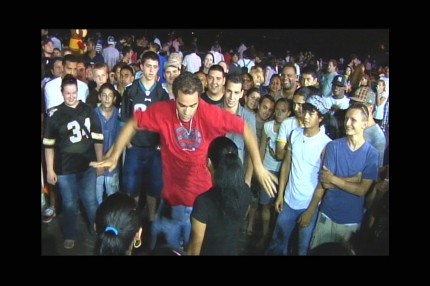 Kran Film presents:
1. Populus Tremula, by Benj Gerdes and Jennifer Hayashida; 9min, 16mm on DVD, 2010.
2. Intelligence Failure: Minutes 39-54, by Benj Gerdes and Jennifer Hayashida; 7min, 2003.
3. Journey 110, by Khaled Jarrar, DVD 12min 15, 2008.
4. The New Film,, by Raed Yassin, DVD, 13min, 2008.
5. Ghost Town, by Steven Day and David Pushkin, DVD, 30min, 2008.
6. Foire du Midi, by Hugo Van der Vennet, 28min, 2007.
Ghost Town: Victor, 2008, 5 min, film still, David Pushkin and Steven Day
(un)translatability
Giving priority to visual language above utterance to develop narrative, the screening program at the Casa Vecina tickles the notion of the (un)translatability. Focused on language either in its own absence, either when its presence plays the secondary role, the (un)translatability does not imply the process of destruction and transformation as evoked by the translation (Benjamin); it rather speaks in terms of an original, as a fixed and inalterable event which offers a room for a viewer to inscribe his/her own thoughts and feelings within its content (Debord).
The screening presents six shorts split in two programs. The first part of the program includes films by Benj Gerdes and Jennifer Hyashida, Raed Yassin and Khaled Jarrar to put the focus on representations of power in the very act of censorship, exclusion and manipulation. Its second part presents collaborative work of Steven Day and David Pushkin, and a film by Hugo van de Vennet. Both films are developed around the subject of amusement park although van de Vennet's film is silent, while the later presents omnibus of ten different stories wherein the meaning of the language is given in relation to the circumstances under which the conversation takes place (Gauker).
*  *  *
casa vecina
Casa Vecina is the cultural branch of the Mexico City Historical Center Foundation (Fundación del Centro Histórico de la Ciudad de México AC) specialized in production, display and research in the field of contemporary art. Rather than assuming the identity of a conventional exhibition space, Casa Vecina has adapted a studio concept: focusing on the artistic process, as opposed to exhibiting finished works of art. Exhibitions and displays are a continuous process of experimentation.
All of the projects supported by Casa Vecina are registered and documented; the information about each project is available to the public through our Documentation Center, which also offers specialized bibliographies and journals. Casa Vecina organizes workshops, theoretical seminars and artistic projects are always open to the community.
.
.