21 October, 5pm – lecture: Threading Looms,Weaving Cinema
RITS School of Arts, Antoine Dansaertstraat 70, Brussels 1000
26 October, 8.30pm – screening: Labour and cinema
Beursschouwburg, Auguste Ortsstraat 20-28, Brussels 1000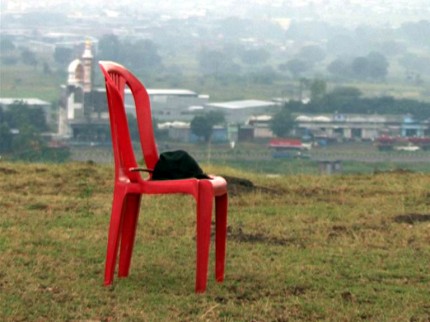 Amit Mahanti, an independent researcher, filmmaker and visual artist from New Delhi, is the first Kran Film Resident who will be visiting Brussels for 10 days in order to explore Flemish video and film archives and the scene, give a lecture at RITS – School of Arts, and organize a screening programme at Beursschouwburg Brussels. Mahanti's residency programme is developed around the theme of labour. He will be exploring the relationship between labour and cinema, and question how labour can sometimes exercise its own sense of creative agency and push us to re-imagine the characterization of the term "labour" itself. In which way cinema may be a powerful creative and political tool to transcend existing conditions of labour? How these cultural expressions often throw up a challenge to the hegemonic discourses of corporate media? Can the labour be understood as an active creative and cultural force that generates its own expressions, reflective of its engagement with the larger world order?
Lecture : Threading Looms, Weaving Cinema
Amit Mahanti particularly explores indigenous filmmaking industry in a working-class town Malegaon (270 km northeast of Mumbai, Western India). Malegaon has over 3 lakh power-looms, the mainstay of the town, which process raw cotton into finished cloth that feeds the textile industry in Western India. The loom-workers of Malegaon also produce their unique brand of cinema, low-cost films using low-end technology, which has a flourishing audience in and around Malegaon. In many ways, Malegaon typifies a working-class unorganized labour ecology in a developing country – a workforce shaped through waves of migration from Northern and Western India since the 19th century, a trend which continues till today; a town which is extremely divided on communal lines (the merchant class is primarily Hindu, while the loom-workers belong to the Muslim community); an everyday life of drudgery through the repetitive nature of loom-work, poor working conditions and inadequate remuneration.
Yet, the prevalence and primacy accorded to the creation of cinema in Malegaon does not allow us to view the town only through the lens of exploitation or inequity. Through their films, Malegaon workers often subvert existing dominant codes of mainstream big-budget films of the Mumbai film industry (Bollywood). This subversion is enacted in various ways – parodist narratives, primarily comedy, of mainstream Bollywood films; miniscule costs compared to Bollywood budgets (the average budget of a Malegaon film is about $750, saved up by a worker through many months of loom-work); localized narratives, and viewing and distribution mechanisms outside the theatre system (more than 100 films are made every year which dominate the VCD/DVD market in the region).
Even within the context of a developing country like India, the labour class in Malegaon resists traditional definitions of labour and provokes us to think on other lines – of how despite being a tiny cog in the wheel of capitalist production, labour can sometimes exercise its own sense of creative agency and push us to re-imagine the characterization of the term "labour" itself; of how forms of cultural expression can sometimes be powerful creative and political tools to transcend existing conditions of labour; of how these cultural expressions often throw up a challenge to the hegemonic discourses of corporate media.
Screening : Labour and cinema
Malegaon Times (2012) by Amit Mahanti and Ruchika Negi
(27min/ Hindi with English subtitles)
Malegaon Times looks at the idea of performance in the working-class, power-loom town of Malegaon (Maharashtra, Western India). Malegaon thrives on power-looms, cloth and cinema, all inextricably linked to each other. The film moves between these worlds with Asif Albela – a stage performer, a mimic and a film actor whose specialty lies in comedy. He is known for his ability to carve out characters from the everyday fabric of his town, and present them through his lens of comedy – the preferred way in which the town likes to see its realities revealed. The film uses Modern Times (Charles Chaplin, 1936) as a starting point to explore the relationship between cinema, labour and performance in Malegaon.
Narayan Gangaram Surve (2002) by Arun Khopkar
(45min/ English subtitles)
Narayan Gangaram Surve, who passed away in 2010, was one of India's leading poets. He was a foundling, raised by a mill-worker until the age of ten and then left to fend for himself. Working as a waiter, helper in textiles mills, a peon in a Municipal school, he finally retired as a primary school teacher. A Marxist by conviction, he forged a new idiom of the spoken word in Marathi poetry. His poems mix dialects of Marathi, Hindi, Urdu, English to catch the pulse of the life of the underprivileged. The film shows Kishor Kadam, playing Narayan Surve, but meeting the real poet through his journey. The poems are 'interpreted', without words, through non-linear montage of visuals and sound effects.
+ surprise (a film from the Flemish archive)
Biography
Amit Mahanti (1978) is an independent researcher, filmmaker and visual artist residing in New Delhi. He is particularly interested in human ecology, culture and social processes, which he has explored through documentary films (Malegaon Times 2012, No One Has Come Alone 2008, ML-05-B-6055 2007), and community art projects and installations (Rain Is For Free 2013, When Hunger Feels Good 2012, Restless 2010, Disconnect 2009-10, Zariyein 2006-08). Together with Ruchika Negi, Amit Mahanti is the founder of Frame Works, a media and research collective based in New Delhi. Frame Works Collective uses interdisciplinary practices to investigate the relationship between art and social processes; their methodology applies theory, documentary film, public art and new media.